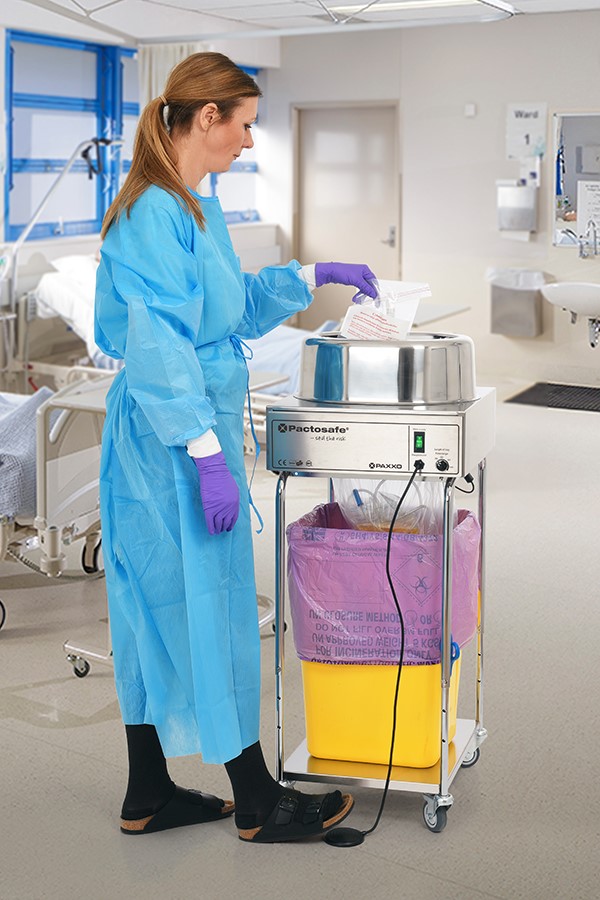 For over two years, Eumedica has been a certified and licensed PAXXO partner for distributing the Pactosafe 4.0 system in Belgium, Luxembourg and northern France (Ardennes, Meurthe-et-Moselle, Meuse and Nord).
This equipment is crucial to health care staff as it provides a safer working environment, preventing the exposure and consequences related to cytotoxic drug contamination and inhalation. At the same time, it allows health care staff to carry out their duties in a hygienic working environment.
Pactosafe 4.0 was developed by the world leaders in the field of waste management to prevent health care personnel from the exposure of hazardous drugs as well as infection control and to avoid odour. It has been developed to quickly store and tightly pack contaminated waste without any extra handling and therefore preventing contamination. Pactosafe is 100% airtight and the bag cassette is permeation tested for cytotoxic drugs which prevents health care staff from hazardous exposure.
Used worldwide within health care facilities, the new Pactosafe 4.0 offers easier use and maintenance. Furthermore, it is also more eco-friendly as it uses 40% less materials.
For more information about this unique equipment, or to arrange a free demo at your premises, please feel free to contact us.
Download the brochure here: